---
Stories/Poems
href.cool
I've become quite serious about hunting for poetry online. When asking around, many people say they find poetry boring. However, poetry is incredibly popular—in pop music, in rap music, Neutral Milk Hotel, Hamilton. (See Parklife, for instance.)
I also feel like sharing of short text fragments on Twitter and in text messages has made poetry possibly relevant again. I have a lot of work to do in this section, but I hope that it will be enormous.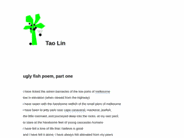 www.coconutpoetry.org
Everything Nina Simone wrote just cuts right to the human that's under our fucking layers of shellac. (If you like this, I think you'll also like the first song off Tank & The Bangas' set on Tiny Desk Concerts. It's those root lyrics like: I've got a mouth and You are like a loop.)
www.youtube.com
In the desert
I saw a creature, naked, bestial,
Who, squatting upon the ground,
Held his heart in his hands,
And ate of it.
I said, "Is it good, friend?"
"It is bitter—bitter," he answered;

"But I like it
"Because it is bitter,
"And because it is my heart."

— Stephen Crane, 1895
Wild livers, yes, the neighbors of the lungs, people sleep on livers, I prefer mines in brown gravy, drenched, over a bed of white rice.
More of these @Decadent_Dayne.
www.youtube.com
The poetry written by a 24-year-old Chinese tech laborer during the few years before his suicide. I find these compelling and it is interesting to think of this poetry disseminated by the devices assembled by these workers. (See also: this doc of poems translated to English and Spanish.)
libcom.org
with an Apple Macintosh
you can't run Radio Shack programs
in its disc drive.
nor can a Commodore 64
drive read a file
you have created on an
IBM Personal Computer.
both Kaypro and Osborne computers use
the CP/M operating system
but can't read each other's
handwriting
for they format (write
on) discs in different
ways.
the Tandy 2000 runs MS-DOS but
can't use most programs produced for
the IBM Personal Computer
unless certain
bits and bytes are
altered
but the wind still blows over
Savannah
and in the Spring
the turkey buzzard struts and
flounces before his
hens.

— Charles Bukowski
tinyletter.com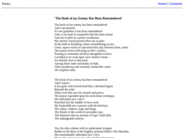 web.cs.dal.ca